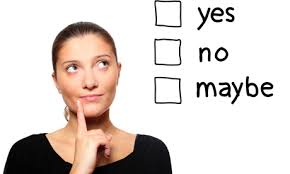 "Any decision is better than no decision"
There are many reasons small retailers close their stores: declining sales, changing retail environment, personal or family illness, retirement, burn-out, loss of lease, too much competition and a hundred other very legitimate reasons. But no matter what the reason or how strong the need, making that decision is always extremely tough.
Several years ago Seth Godin, author & professional bogger, posted "Make a decision"on Seth's Blog. It's even more appropriate now than when he wrote it.
He points out that no matter what the outcome, making the actual decision is the most important thing. It is the starting point for all actions, and from there you can make any necessary adjustments. By not making a decision, you're actually making one.
I've talked with hundreds of small retailers who were considering conducting a Store Closing or Going Out Of Business Sale who knew that they should close their store, but needed just a little more time to think about it. Guess what? The decision was never made. They didn't make the decision to take action to solve the challenges that they faced with their business nor did they make the decision that it was time to close their store.
Listen to Seth – right or wrong make a decision – it is the start to your solution.