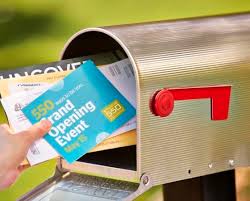 If you're going to have a Store Closing Sale or High Impact Inventory Reduction Sale it is extremely important that the sale gets off to a extremely strong start. You must achieve a high return for your advertising. That means that it must be targeted and create traffic right now.
The best way to do that is a direct mail campaign.  That means a piece of direct mail to your customer list or if you don't have a customer list then you must buy a list of possible customers in your market area.
A direct mail piece to your store's customer list will always produce the best response. That response is often as high as 5% – 8%. That means that if you mail 1000 pieces, you should expect from 50 to 80 customers to respond to that direct mail piece. I always recommend using a well designed letter in matching envelop mailed 1stClass presort when mailing to your customer list.
If you don't have a customer list, you should do a saturation mailing to your immediate market area. Your market area in most cities is an area in a two to three mile radius around your store. You might think that your market area is larger, but research as determine that in most cases it is not. The more rural your area is, the farther out your market area goes. Saturation mail list can be purchased from list brokers or in some cases the company doing the printing can supply the mail list.
A well-designed direct mail piece used in a saturation mailing will usually produce a 1% – 2% response. That means to get the same number of customers in the door you need to mail more pieces. Most saturation mailings use standard rate postage. This allows you to mail more for the same amount when compared with presorted 1stClass used when mailing to your customer list. When doing a saturation mailing, we suggest that you consider a well designed postcard.
The reason we suggest a well-designed postcard is that it does not have to be opened to have its message delivered. When you mail to your customer list you already have a relationship with the recipient, it is more personal and they will open it if that relationship is good.
In both cases the direct mail piece must be well-designed and contain some consistent elements if it is going to be effective in generating traffic. Using an experience retail marketing consultant to help you with your sale should assure that your direct mail campaign is successful.