Not every retailer needs to hire a professional consultant to be on site during their store closing sale.
Our DIY Plan can save you big bucks and achieve similar results that using an on-site professional store closing consultant would. Each DIY plan is customized for the individual retailer and developed from information they provided. It is based on the retailer's needs and goals.  With a solid plan and an available source of experienced good advice many small retailers can conduct their own Store Closing or Going Out Of Business Sale. They can achieve the same or better results than if they used a full-time professional store closing consultant.
What does the DIY Plan include?
• The best time to run your sale.
• How long your sale should be.
• What sales volume to expect from your sale.
• Detailed markdown strategy.
• Merchandising strategies.
• Recommended signage and where to source it.
• Recommended media, timing, examples and sources.
• Best way to sell store fixtures.
• (2) Consulting sessions anytime during the sale.
See Our Other Plans: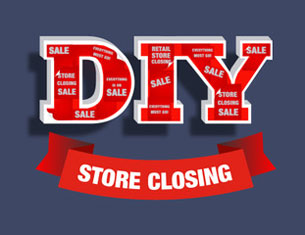 After 35 years of retailing and 12 years of store closing consulting with small and medium size retailers all across the United States, CCH Consulting is ready to share the best way for many small retailers to conduct their own store closing or going out of business sale.